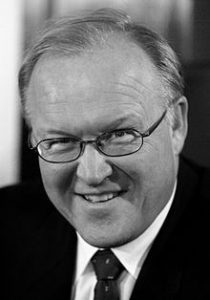 Chairman of the Board
Chairman of the Remuneration Committee
Sociology and Political Science, Örebro University, Sweden
Chairman of the Board of Swedbank and LKAB. Senior advisor Consulting assignments through own business, Baven AB. Previous experience include Sveaskog, Chair 2008–2015 (State forestry company and the largest forest owner in Sweden with about 3 million hectares of commercial forest land), Scandinavian Biogas Fuels, Chair 2009-2021, Ålandsbanken, Board member 2015–2019, Prime Minister of Sweden 1996–2006 and Finance Minister of Sweden 1994–1996.
Board member's independence
Independent in relation to the Company and the management of the Company and independent in relation to the Company's major shareholders.
Visiting address:
Kungsgatan 29 (7th floor)
Stockholm
SWEDEN
Mailing address:
Box 7331, SE 103 90
Stockholm
SWEDEN
e-mail: info@greengold.se